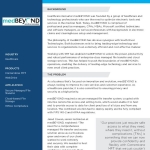 Healthcare innovator medBEYOND was founded by a group of healthcare and technology professionals who saw the need to optimize electronic tools and services in the medical field. Today, medBEYOND is comprised of professional practice managers, CPAs, MBAs, Microsoft certified technicians and software managers, as well as professionals with backgrounds in electronic claims and clearinghouse setup and management.
The philosophy of medBEYOND has obvious synergies with South River Technologies. Both businesses exist to bring leading-edge technology and services to organizations in an extremely ecient and cost-eective manner.
Working with SRT has enabled medBEYOND to unlock the power, productivity and robust performance of enterprise-class managed file transfer and cloud storage services. This has helped to push the boundaries of medBEYOND's operations, enabling the delivery of leading-edge technology and services to even small client practices.
| | |
| --- | --- |
| Nom de fichier: | MedBEYOND-Case-Study.pdf |
| Version: | 1 |
| Taille du fichier: | 108.97 KB |
| Type de fichier: | application/pdf |
Licence
Droit de téléchargement libre. Data3V SAS | France